Home » Tech » 'Blockchain provides honest architecture': BSV Blockchain's Bryan Daugherty joins The Food Institute's Proof of ESG panel
Tech 8 June 2022
Bryan Daugherty, the Public Policy Director for BSV Blockchain was a panelist on The Food Institute's Proof of ESG: Blockchain solutions panel last June 2. Daugherty, alongside David Mustin, the Vice President of Strategic Consulting at Marcum technology, explored the topic of ESG, the problems it currently faces, and how innovations like blockchain technology could be used to optimize it. Watch the webinar here or read our recap below.
ESG problems and ESG solutions
Mustin kicked off the conversation with a presentation that highlighted a few of the pain points with ESG. Mustin explained that when it comes to ESG, the "E" or, "Environment" typically gets all of the focus while the "S" and "G," social and governance, tend to get overlooked. 
An even bigger problem is that there is no holistic framework to tackle ESG, which makes it difficult to quantify progress since there are not many standard frameworks used to measure or create objectives in the ESG world.
"Blockchain is a fundamental component for ESG moving forward. It's difficult to trace inputs and sustainability, labor issues, and governance and oversight of supply chain organizations but blockchain gives us an opportunity to track data, gather data, work in a consensus fashion, and collaborate in an open and public space which can lead to a holistic effort," said Mustin.
Shortly after Mustin explained the problems that plague ESG and how he is hopeful that technology can provide a solution, Daugherty took the stage and took a deeper dive into why blockchain technology is the perfect fit for the problems in the ESG world.
"We need more fairness and transparency, and blockchain provides honest architecture," said Daugherty. "By integrating emerging technologies such as blockchain, AI, IoT, drones, and smart devices, organizations can begin to focus on areas that encompass established ESG-based metrics for verification and authentication. I believe this can be best seen through four distinct channels."
These channels, according to Daugherty, are:
Smart Data – Promoting the use of an energy-efficient public blockchain to assist in data privacy, information integrity, real-time availability, and interoperability.
Smart Energy – Promoting the utilization of a public blockchain to document and authenticate energy consumption data, ESG programs can improve overall energy efficiency.
Smart Mobility – Promoting the integration of digital ledger technology to establish reliable digital identities, bypassing traditional intermediaries, and improving automation.
Smart Infrastructure – Promoting the use of a public blockchain that can manage high volumes of data, improving efficiencies and real-time, verifiable insights.
Daugherty explained that one of the biggest problems in ESG is "greenwashing," in which companies are deceptively convincing the public that they are environmentally friendly and implementing ESG practices in their business when they really aren't making notable efforts.
"One of the most prominent issues is the lack of data integrity and availability. Blockchain solves greenwashing by ensuring that responsible parties are held accountable for the information they disclose," said Daugherty.
ESG compliance
There are many problems in the ESG world, but the road to resolution is clear.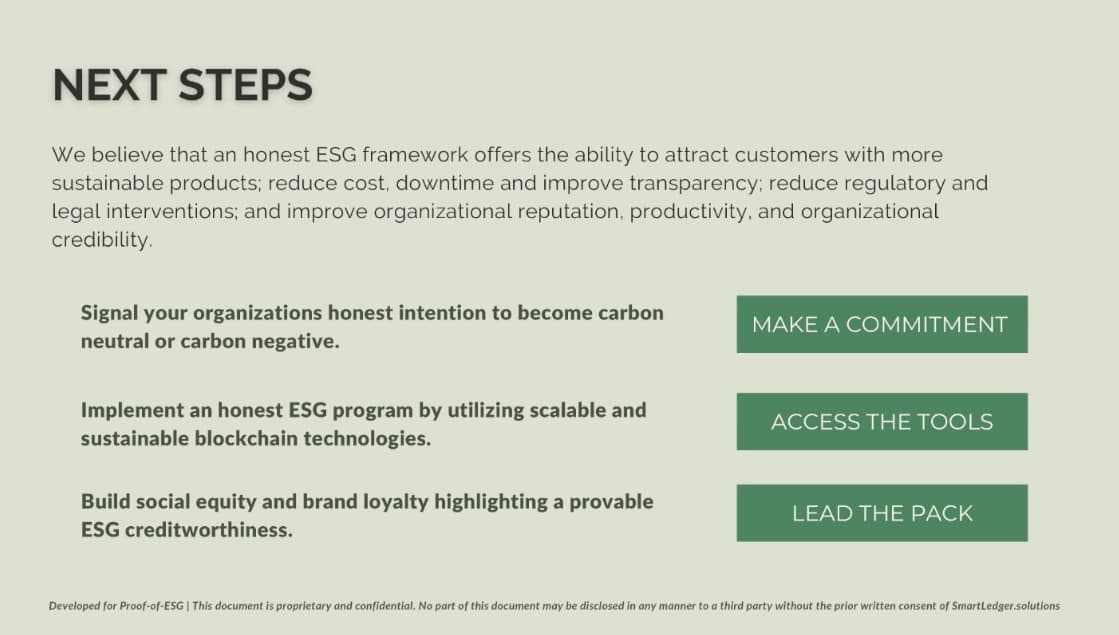 Both Daugherty and Mustin advocate for the use of technology to solve the issues in ESG around data integrity and measurable objectives. For ESG to improve, more businesses will need to commit to becoming ESG compliant and will have to implement a system that measures their advancements in the ESG arena.
Blockchain is one of the technologies that are a perfect fit for these businesses because it is a public timestamped ledger with immutable data that businesses can use to capture their data in real-time to prove to the world that they are ESG compliant.
Watch: BSV Global Blockchain Convention panel, ESG Compliance & Blockchain
New to Bitcoin? Check out CoinGeek's Bitcoin for Beginners section, the ultimate resource guide to learn more about Bitcoin—as originally envisioned by Satoshi Nakamoto—and blockchain.
KenGen PLC is luring miners with cheap geothermal energy and claims it has already been approached by a number of miners from across Europe and the United States.
The best way to convince people of Bitcoin's abilities is to use it yourself. The Bitcoin Association understands this, and has added live demo apps to the BitcoinSV.com website for new users to try.
The country has taken an equity stake in Crusoe Energy Systems Inc., a U.S.-based company that is one of the pioneers of using stranded natural gas to power block reward mining.
If signed into effect, the bill will place a two-year moratorium on any carbon-based proof-of-work mining operation that is looking to open shop or that needs to renew its permit.
Join the official Bitcoin SV Discord channel:
www.discord.gg/bsv