10:00am – 2:00pm
SHE'S SO HIGH
Thursday, June 30th, 2022 12:31pm
Three awards have been handed out by Community Futures Oxford to recognize those in entrepreneurship, job creation, and economic development. 
OXFORD COUNTY – Community Futures Oxford has announced its annual entrepreneurship award recipients.
The awards are to recognize entrepreneurship, job creation, and community economic development in the community.
Three awards were given, with the 2022 Young Entrepreneur of the Year being awarded to Allison Drost, at the Woodstock School of Dance & Yoga.
The Entrepreneur of the Year was given to Ellis Morris at Red Dragon Dairy.
The Community Economic Development Project of the Year was rewarded to the Rural Oxford Economic Development Corporation. This was for We Grow Together, a virtual video series about rural business.
Community Futures Oxford has given over 33 loans, reaching $1,597,055. They have awarded $106,850 in grants to 12 different projects, reaching over 25 different partner organizations. They have also successfully assisted 108 businesses with 239 jobs influenced.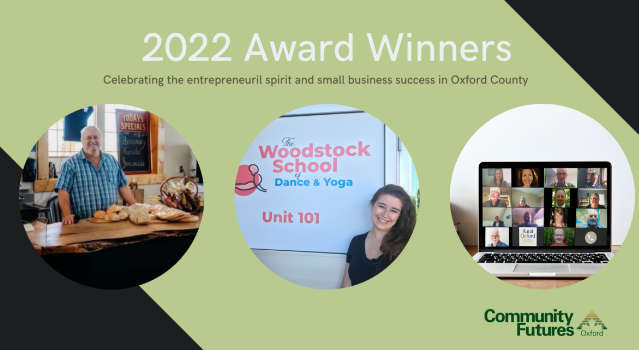 Photo Credit Community Futures Oxford
The Woodstock Police Service has once again teamed up with McDonald's for the positive ticketing program.
A 66-year-old man from Oxford County has been charged with impaired driving in South Walsingham.
Police have arrested a 21-year-old man after a shooting in Chicago killed at least six people and injured 30 others.
Police say Ashley Deryk was last spotted in Ingersoll on Saturday, leaving the Jet Set Motel in a cab at around 3:00 p.m.
One person has died and a child had to be airlifted to hospital with non-life threatening injuries after a head-on crash on Hofstetter Road.
SHE'S SO HIGH
LET ME LOVE YOU
BANG!
JEALOUS (I AIN'T WITH IT)
© 2022 104.7 Heart FM (CIHR-FM) is owned and operated by Byrnes Communications Inc.. Powered by Aiir.